Zenco 7090 Cooling Pad (150 Thickness)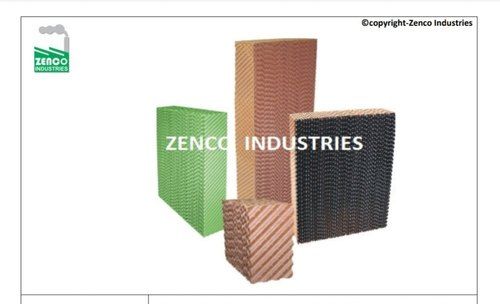 Price :
129.00 - 150.00
/ Square Feet
Business Type
Manufacturer, Exporter, Supplier
Type
Air Cooled
Shape
Rectangular
Color
Brown, White ,green
Click to view more
Product Details
Catalogue

View
Suitable for typical application with a moderate air face velocity design such as poultry, and greenhouses.

Other Details:

( α - 45/ β - 45 flute angle configuration flute Ht. - 7 MM):

Features:
Use of space cross link technology, high absorbability, and long service life.
Large evaporative surface area, cooling efficiency as high as 80%
Our cooling pad involves use of surface active agent which absorb water naturally and rapidly thereby having long lasting effectiveness. A drop of water can diffuse in 4-5 seconds.
The products don't contain phenol which is easy to skin allergy and other chemical substances, when installed, it is non-toxic harmless to human body, safe, energy saving and environment protection
Variety of color available in cooling pads: Brown, Green, and Blue coated.

Applications:
Livestock Farm: Poultry, Dairy, Swine.
Planting: Growing Crops, Greenhouse.
Pre-cooling & Spot cooling: Industrial application, Residential & Commercial Building, Supermarket, Desert Coolers, Air Coolers, Swamp Coolers etc.
Humidification: Industrial application, Commercial building.

Why you should trust "Pioneer Cooling Technologies "for Evaporative Cooling Pads:
We use 100% virgin Kraft Paper (Euro origin) and there is no mixing with any softwood pulp or recycle paper. Our paper is anti - bacteria and anti - fungus.
Our pads are impregnated with high quality of chemical agents which makes it usable for a longer period.
Our white glue is imported from Best American Companies to maintain the quality of pads.
We have always believed that quality products can be made only if it is made out of quality raw materials thereby assuring best of our services to our valued customers
Looking for "
Zenco 7090 Cooling Pad (150 Thickness)

" ?
Square Feet